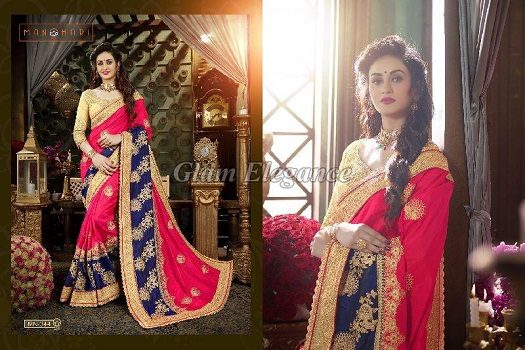 Sarees are measured to be one of the most attractive clothing for women. And designer saree can be considered as ice on the cake. Saree is traditional wear not only in India but also in the other parts of the world. Women in India in different regions wear sarees in many different ways and in different styles supplied by the Indian designer saree supplier Surat. With the changes in times wearing saree has also changed. In the current fashionable world, people are changing the traditional look of saree with the Morden style. The choice of designer saree is growing day by day. Women of young age group love to wear sarees in various ways that have diverse kinds of designs and patterns done all over.

Below are some of the best way you can buy your choice of designer saree online

Choose the style which suits you

It matters a lot how you wear the saree; if any woman does not wear saree in the right manner then she might look a bit odd instead of looking beautiful. Therefore selecting a saree correctly and stylishly is really significant.

Designer sarees in Surat are a unique speciality of saree. How you drape a designer saree really affects its all overlook. It's surely easy to dress a saree in a good and stylish manner. You must look for the designs which suit you the most.

Check the dimension properly before buying

Start wrapping the saree at the naval and tuck the plain end into the petticoat and start wrapping the saree. Make it a point to see to it that your saree is designed in such a way that it compliments your height whether short or tall. Length of the saree must be adjusted as per your height. Then make pleats in the front of the saree taking into account how much length of palla or pallu you want.

Consider your personal style before buying from designer sarees Manufacturer

There are multiple options available in the market with multiple design and styles. Never compromise your personal style behind no matter what. Your personal style is something that keeps you comfortable and confident about what you're wearing. Online ethnic marketplaces are always going to show up with a new style every day but the elegance of saree lies in how well you carry it. No one can transmit your personal style enhanced than you too.

Don't be outdated

If you don't want to be called as old-fashioned and outdated you should always choose the latest brand and style. With the latest fashion sarees don't compromise your personal comfort and choice.

Always ask for the return policy

Don't skip to check the return policy of the seller before buying the designer saree online. Sometimes the materials and styles from online stores do not meet your expectations. Therefore to be on the safe side and confirm that you can return the saree if you do not like it.