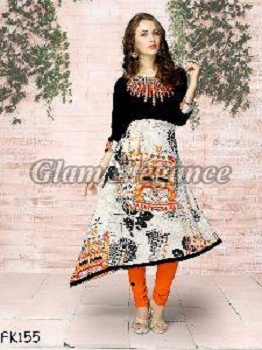 Kurtis is excellent attire to make your appearance representable in any circumstances. Be it glam look for candlelit dinner or office look for meeting with the client. Designer Kurtis has been exceptional for quick setup with little makeup. The perfect combination of style & comfort from Designer Kurtis Manufacturer Surat makes it the favourite item in the wardrobe.

But sometimes you feel bulky after having the lunch meal or extra food in the morning. But do not stick to your bulkiness, rather find some favourable solution to look slimmer. Here are some tricks which would help you to look slimmer and fetch a great impression on the nearby people.

Fabric is the Essential Consideration:

As you know, before choosing any outfit we must look for the fabric. Choose soft and flowy fabrics like georgette, satin, light cotton, etc. These fabrics would go easily with any body shape without the clinging effect. Hence, avoid the kinds of stuff with tight-fitting.

Flared Cuts May Do the Trick for You:

If you gained few extra kilos of weight and you are looking a little heavier than before, choose cinched styles and flared cuts. It will provide the upper hand in the showcase. It would hide the uncomfortable shape of the body and show a flattering impression among friends.

Apply the Layering Trick:

For ethnic wear like Designer Kurtis in Surat, it is not bad to execute than plan for layering tricks. Pair something significant which would enhance your sense of fashion at parties or meetings. You can have a small waistcoat or cotton jacket with a kurta. Do these things to amplify the glamour and look like people expect from you.

Glam With Prints:

The science of fusion is indicated in every look. Small checks or striped patterns would favour the look with even distribution above dark background. Pair these things with designer Kurtis to flare out the hemline and fit the stuff into the body. It would reflect the impeccable style in a complimentary way.

Choose the Perfect Matching Colours:

Choose some highly demanding Kurtis from Designer Kurtis Supplier with deep blue, black, wine, midnight purple, chocolate brown, etc. These look appealing when you are passing nearby people who once jeered you on your bulkiness.

Power of Accessories:

Do not underrate the accessories as these are hidden treasures in the wardrobe. Most of us still stick to the thinking that accessories would make you bulkier. If you want to look sublime by highlighting your slender wrist, collar bones, or neckline, choose the perfect matching jewelleries for you.

Flaunt With Footwear:

The outer look is nothing without having the perfect footwear which goes with the attire. It defines the overall look in slender form. If you are a little bit short, flaunt the legs with high heels. When you are looking taller, people will see you slimmer.

Hence, you got ideas on how to manage the outlook with premium Kurtis. Go for the amazing Kurtis selection and purchase online. For further information, keep reading these articles based on wearing Kurtis, add-ons, etc.