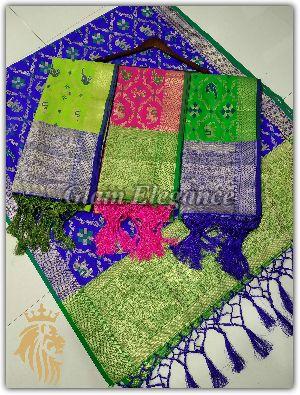 Banarasi silk by Banarasi silk dupatta supplier Surat is an unrivalled example of exceptional craftsmanship. This excellent craftsmanship was brought to India by the Mughals. They also made a concerted effort to elevate the craft of weaving and design. They motivated a few artisans to work in the delicate technique of weaving as a result of their actions. It was the birth of the art of Sari weaving. Furthermore, during the period, Persian themes were being combined with Indian traditional clothing.
Today's Banarasi Silks are the result of this unique fusion of two civilizations, as well as the Mughals' exceptional zeal. Silk for Banarasi Sarees was previously imported from China, but currently, it is produced in the southern portion of India.
History
The skill and culture of weaving silks into Banarasi sarees is centuries old. The tradition of handing down the Banarasi saris' artistic culture from generation to generation has never been broken. Persian themes were combined with Indian silk designs to create the characteristic floral pattern of Banarasi silk sarees that are so popular nowadays.
The skill and culture of weaving silks into Banarasi sarees is centuries old. The tradition of handing down the Banarasi saris' artistic culture from down the generations has never been broken.
What Exactly Is the Texture of a Banarasi?
Banarasi is a silk texture most known for being used to produce sarees and dupattas. It originated in Varanasi, also known as Banaras. Silver and gold brocade or zari, quality silk, and weaving are all hallmarks of Banarasi Silk Dupatta in Surat. A genuine Banarasi silk dupatta is mesmerizing in its elegance. Without genuine silk Banarasi clothing, every celebration feels incomplete.
Banarasi Dupatta
While we talk about purchasing a dupatta Banarasi from Banarasi Silk Dupatta Manufacturer Gujarat, we ought to know about a couple of things, for example, what is a perfect length of a Banarasi silk dupatta. The ideal and verified length of the dupatta is 2.5 metres and not less; this is one of the distinguishing characteristics of a Banarasi dupatta. The market offers you several lengths based on your preference for how long you want to wear the dupatta.
Things To Keep in Mind
Another important consideration is the texture of the dupatta. Banarasi Silk Dupatta comes in four different textures, which distinguishes them from one another. Katan (pure silk), Organza/Kora (a combination of silk and zari), Georgette, and Patola are the four types. When it comes to choosing a pure silk Banarasi dupatta, most people go for Katan.
Last but not least, when purchasing a pure silk Banarasi dupatta, you must select the appropriate weave and determine whether you want a handloom or power loomed Banarasi silk dupatta.
Final Words
Have you ever considered that you've finally acquired a pure silk Banarasi dupatta but have no notion how to care for it? Maintaining your silk Banarasi dupatta is critical if you want to keep it spotless for a long time since it is pricey and you don't want its beauty to fade. A silk Banarasi is a valued possession for any lady.