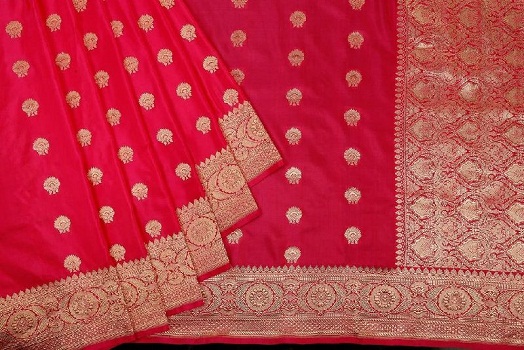 It is true that no Indian woman's wardrobe is complete without a Banarasi saree. These sarees are an epitome of aesthetic brilliance. Designed using silver or gold threads and created with the supreme grade fabrics, Banarasi sarees are the queen of Indian sarees. These sarees are originated in the religious city of Banaras (Varanasi). Banarasi sarees come in various designs and styles. Combining Indian and Persian styles, Banarasi sarees are decorated with small motifs or booties across the entire length. These booties can be floral or foliate. Generally, Banarasi sarees are recognized for their intricate zari work or delicate embroidery work. These sarees have also got the most intricate border designs. The sarees consists of interesting creeper designs spread across the border. Many grandmothers have passed their Banarasi sarees over the generations, making those sarees priceless today. Artisans take days and weeks to weave these wonders.

Types of Banarasi Saree:

In general, there are four types of Banarasi sarees—pure silk Banarasi sarees, organza Banarasi sarees, georgette Banarasi sarees, and shattir Banarasi sarees. However, weavers from all across the country have come up with their takes on the Banarasi sarees - these include the Kanjivaram Banarasi sarees, the Bhagalpur Banarasi sarees, the Mysore Banarasi sarees and many more. Each of these varieties of Banarasi saree has its exclusive design and look. Regardless of what design people prefer, they will find more than one to suit their preferences.

The Best Brands of Banarasi Sarees:

When it comes to Banarasi sarees, quality is an essential factor. Whether it is the quality of the design or the quality of the fabric, people should make sure that they buy the best one for comfort and durability. Pure silk, Art silk, poly silk, Kota silk, georgette, chiffon, organza, cotton-Banarasi silk, and tissue are the different types of fabrics used to make Banarasi sarees. Pavechas, Ishin, Mimosa, Saara, Dealsure, and Indi Wardrobe are some of the most popular brands of Banarasi sarees and they are well-known for their impeccable traditional saree designs. There are also options for other brands as well for these sarees. People can find the finest quality saree from a top Banarasi saree manufacturer in Gujarat. They can even rely on the best dealer supplying Banarasi sarees in Surat.

Latest Prints And Patterns:

In the past days, weavers used to draw inspiration from traditional Mughal prints and patterns like floral motifs, paisleys, and even architectural work. Banarasi weavers also showcased betel leaves, jasmine, marigold flowers, and emeralds on their sarees. While the same designs and patterns continue to inspire the weavers and designers, today. From checkered Banarasi sarees and embroidered Banarasi sarees to Banarasi sarees with animal prints to Banarasi sarees with applique work, you can find them all on Banarasi saree section of a reputed Banarasi sarees supplier. For people who do not like extensive zari work, they can choose the plain varieties available in neutral and pastel hues.

Banarasi Sarees For Weddings And Festivals:

Banarasi saree will make the perfect attire for any festival occasion or even a wedding. These sarees have been making women look beautiful all across a wide variety of cultures within the country. Traditional Banarasi sarees don't only look beautiful but make you look impressive as well. These sarees are available in a variety of prices to suit your budget as well.

Designer Banarasi Sarees To Make You Stylish:

Not everyone loves traditional designs, and Banarasi sarees are available in modern looks as well. If you are searching for fancy saree designs and contemporary styles, Bollywood Banarasi sarees are the ones that suit you the most. The trendy and fashionable designer Banarasi sarees are available for the modern-day women. These sarees are also ideal for parties. One can find daily wear Banarasi sarees in the market, available at a very affordable price.