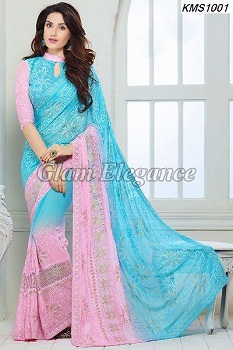 Chiffon is among the most popular fabric which is made from polyester, silk and synthetic materials. This light and the elegant fabric are used in various types of attires such as blouses, evening gowns, scarves and so forth. However, the popularity of chiffon sarees is quite incomparable as it adds to the beauty of the wearer. Apart from that, it is easy to drape and comfortable. It has a balanced and sophisticated appearance which is quite distinctive. Therefore chiffon sarees exporter Gujarat is ready with all types of chiffon sarees with different designs that will suit your personality.
Why woman should choose the chiffon sarees
Comfortable and Easy to Wear:
One of the main reasons why women love to drape these sarees is that it is quite easy to wear. It is also extremely comfortable and elegant.
Formal Wear:
This exquisite fabric offers a formal appearance and it can be worn to offices and parties at the same time.
Versatility:
Another attractive feature of this unique fabric is its versatility. This lightweight fabric can be combined with various other types of clothes to appear stylish.
Easy to Wash and Maintain:
It can be hand washed without any effort as the colors and the print remains intact for a long period.
Soft on the Skin:
Chiffon sarees can be worn during all seasons as it is soft on the skin and seldom causes any discomfort.
Drape Well:
It is one of the most exclusive varieties of fabrics that drape well on the body and accentuates the beauty of a woman.
Variety of Designs:
These sarees can be found in a huge assortment of designs and styles. Some of the most widely used embellishments include mirror work, pearls, stones, sequins and so forth.
Features of the chiffon sarees help you to identify it
• Here are some of the best features of a chiffon saree you need to know:
• Chiffon Sarees are quite light in weight and have a silky texture.
• They are glossier than the regular Georgette and synthetic fabrics
• Chiffons have had a mesh-like effect upon taking a closer look. This is the result of a criss-cross weave of the thread.
• Chiffons have crumpled appearance and when stretched too much, can ruin the appearance of a saree.
• Although chiffons are weightless materials, they are stronger compared to the other sarees.
Varieties of chiffon sarees with different combination supplied by chiffon saree supplier in Surat
• Chiffon Silk Saree
• Chiffon Party Sarees
• Blue Chiffon Saree
• White Chiffon Saree
• Fancy Chiffon Saree
• Designer Chiffon Saree with Patch Border
• Beige Plain Chiffon Saree
• Red Chiffon Saree With Zari Border
Why you should go for the online option to buy the chiffon sarees
Today many of the online stores portray a huge variety of chiffon sarees with different designs and styles offered by chiffon sarees in Surat. The designer sarees are among the most popular types of sarees worn by women all over the world. These sarees have a unique appeal that tends to enhance the beauty of the wearer in many ways. These elegant and soft fabrics exude a sense of charm and magic which is beyond compare.