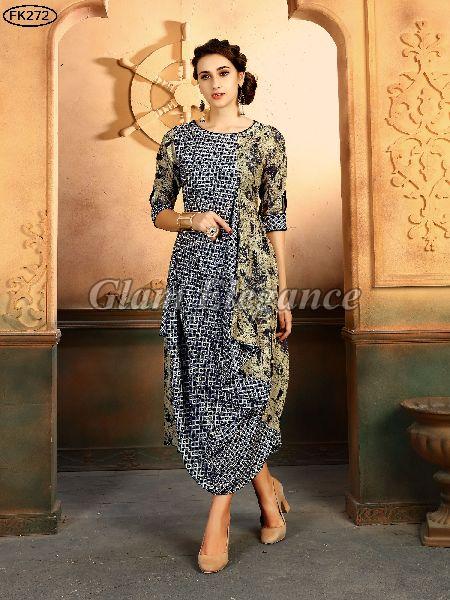 Designer Kurtis Manufacturer Surat is rightly serving the needs of the customers who are looking for some fashionable clothing items.
Designer Kurtis has become one of the latest trends in the fashion industry. These are not simple but even comfortable and easy to wear. The designer clothes are typically embellished with eye-catching embroidery work and are perfect for casual family gatherings, birthday parties, engagements, Pooja, and wedding ceremonies. Designer Kurtis Manufacturer Surat understands the needs of the girls for the designer pieces and offers the best Kurtis in different fabrics and colors. Moreover, the designers and manufacturers always consider the advanced fashion trends while manufacturing the ladies' garments.
Available for all ages
The designer Kurtis are appropriate for people to belong to different ages and perfect to wear all year around. Moreover, you can ideally match them with trousers, skirts, jeans, salwar, or Capri. These dress materials not just look decent, but are also flexible and stylish. Moreover, they are graceful and sufficient for any woman's wardrobe.
Different fabrics available
As said earlier, the Designer Kurtis Suppliers make sure that the offered range is made from a broad variety of fabrics such as cotton, georgette, and Lenin. One can easily find long, medium, and short-sized Kurtis. The embroidered tops are commonly offered in ethnic and traditional designs. Meanwhile, printed and geometric designed materials are also turning renowned these days.
These designer Kurtis have originated directly from the salwar kameez, which is one of the most conventional outfits in India. The kameez has been redefined by fashion manufacturers and designers into different lengths and designs. Moreover, the style of wearing the designer Kurtis normally depends on their length. The long-length kurtas can be ideally worn over jeans, salwar, and trousers. Apart from trousers and jeans, the medium-length tops can be worn over Capri.
Add Accessories to Make Attractive
To get a trendier appearance by wear a designer belt over the Capri. The short Kurti looks stunning if worn with long skirts. It can give an indo-western touch to your outfit. To get a more formal appearance carry a stole while wearing a Kurti. Moreover, wearing a matching or contrasting stole about your neck with a short Kurti and long skirt can provide the clothing with a lehnga choli kind of a look.
As of today, the designer Kurtis offered by Designer Kurtis Supplier Gujarat like glamelegance.co.in are one of the most selected attires in India. Moreover, it has even brought down the sale of other conventional Indian dresses to almost half. Additionally, the designer Kurtis is now gaining huge recognition all around the world. The indo-western outfits are not just popular among the Indians; they are evenly in demand in various western countries. It has now become one of the global fashion industries. If you wish to shop from the ease of your home, you can look into different stores that are selling these designer Kurtis online. Online shopping and placing bulk orders can help you in finding better discounts and offers.