Guide To Buy A Quality Banarasi Saree
Posted by Admin on August, 18, 2021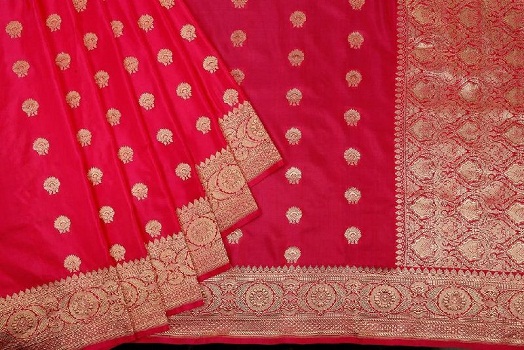 Banarasi sarees are among of the most elegant silk sarees worn by Indian women. The most notable feature of Banaras sarees is it's gold and silver brocade and zari. Banaras sarees are widely accepted because of its intricate designs created with gold and silver zari incorporated with a striking shade. It is one of the go-to apparel chosen for auspicious events like weddings.

The best quality banarasi sarees are made of pure silk and are handloom. But more often than never, the banarasi saree bought might not be that authentic. Here is a guide to getting the best banarasi sarees. These are the five important points that you should keep in mind.

1) Check the silk mark

The best quality banarasi sarees are of pure silk material. Often retailers tend to rip off customers by selling banarasi sarees made of Chinese silk or faux silk. To avoid this, you should always look for the silk mark to assure the authenticity of the silk saree.

2) Ask questions to the retailer

To make sure that your banarasi saree supplier is being genuine is an essential factor. Ask the retailer various questions about the different types of silks used the materials, and the designs to ensure the authenticity of the saree. You can also specifically ask about the silk mark on the saree. This will help you reassure that the retailer is knowledgeable about textiles and that your saree is original.

3) Buy from a trustworthy place and person

It is imperative that you know the right places to shop at. This you can do by talking to people who have knowledge about banarasi sarees. To find the best banarasi sarees in Surat, you can talk to people and find out about the best banarasi saree manufacturers in Gujarat. Through this, you can easily narrow down the number of places that are genuine. Also buying the product from a person who has some background in textiles and who knows what they are selling is important. The more the retailer knows, the more you know.

4) Research thoroughly before purchasing

Buying a banarasi saree is a huge investment. Doing your own research before making any purchases is an essential factor. Reading about the different weaves and materials used might prove to be very helpful while you are buying the product. If you have all the information gathered beforehand, it'll be easier for you to make the right decision and buy the best product.

5) Make sure it is handloom

The best quality banarasi sarees are always handloom. It is crucial that you know the difference between polyester and silk. These days many sarees are being sold in the name of banarasi sarees at cheap prices. To some extent, It is possible to understand the quality of the silk by touching and feeling it. Although it might not be that easy to tell a handloom and power loom apart, you should always watch out for this.

Once to plan to buy this ethnic saree, make sure to get it from a reliable banarasi saree supplier. Such sarees from trusted sellers would ensure that the money you spend is worth it.
This entry was posted on August, 18, 2021 at 15 : 15 pm and is filed under Banarasi Saree. You can follow any responses to this entry through the RSS 2.0 feed. You can leave a response from your own site.