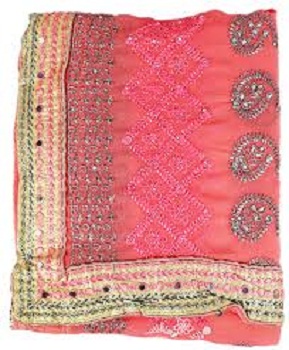 India, the land of wonders as you will find a myriad of customs, religions, and cultures here. And, no doubt, its greatest treasure is the culture of arts and crafts. Be it any art form including music, dance or crafts like painting or embroidery – a unique yet diverse testimony of the cultural heritage of India.
The designer embroidered saree suppliers in Surat offer an exquisite range at the cost-effective rates. Various states in India are counted for its own flavor of embroidery works. For example, intricate Chikankari weaves of UP, Gujarat's handwork, or Rajasthani patchwork, every state offers its distinct style of stitches by using specific colors on unique fabrics.
Top 6 inspiring generations of embroideries of India:
1. Chikankari
A piece of chikan is produced by printing block patterns on the clothes. Then the craftsmen need to embroider stitches through the block patterns. When the stitches are done, the cloth is washed for eliminating any traces of the block prints. Today, this craft uses a range of colors and fabrics.
2. Kantha
Kantha stitches are the pride of Odisha and Bengal, which is popular for its simplicity. Kantha work is generally done on sarees and dhotis, and it is a kind of stitch that runs along the edges. Kantha embroidery includes motifs of flowers, animals, birds, and various daily activities.
3. Phulkari
Phulkari embroidery work is a famous tradition of Punjab. It includes the motifs of flowers on naturally dyed khadi or any hand-spun cloth. Another special thing about phulkari is the stitches are run on the reverse of the cloth and the designs take shape on its front.
4. Banni or Heer Bharat
Silk floss is used for making the banni or heer bharat embroidery and when the designer embroidery sarees are made, a supplier from Surat, Gujarat take it to the global market. Phulkari and mirror works are also included in its stitches designs.
5. Zardozi
It is an age-old art form that is performed by using silver and gold threads. Even the original zardozi works also include various precious stones including pearls, to offer a rich and royal look. But today, zardozi works are made using silver and golden colored copper wire and silk threads.
6. Aari
It is one of the most desired Kashmiri embroideries that is also referred to as crewelwork. A crewel is required to perform the concentrated chain ring stiches intricate with floral motifs.
7. Mirror Work
Mirror or shisha work is popular traditional craftwork of Rajasthan and Gujarat. Three types of shisha embroidered sarees in Surat are available – hand-blown, machine cut, and shisha embroidery, which use pieces of mirrors of different shapes and sizes to get stitched between colorful embroidery.
From ancient times, Indian sarees are getting prepared with the unique embroidery works and in the previous times, it used to carry royalism. There are some particular reasons why embroidered saree manufacturers are doing great business worldwide,
1. Women love to wear uniquely designed sarees that have no match
2. Embroidery works make sarees more traditional
3. Definitely, sarees make a greater canvas for the embroidery works to glow and feel completed
4. Embroidery sarees can be worn on any occasions anytime day or night, they are gorgeous!