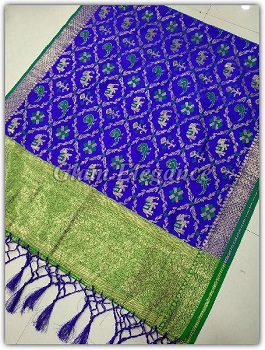 Indian wears are known to be classic and colourful. The reason that this Ethnic wear is popular even today is that you can style them according to both your preference and ongoing fashion trends. Ethnic wears are often accompanied by accessories that make the outfit look much more pleasing to the eyes. One such accessory is the dupatta that can make or break any look. Banarasi silk dupatta is often a popular choice of accessory for events, weddings, parties as these add glamour to even the simplest outfit without being over the top look. Listed below are few outfits that work wonders with a Banaras silk dupatta and helps you to stand out in a crowd.
Floor Length Dresses
Today floor-length dresses are the perfect dress choice for weddings, Mehndi, etc. So if you want to stand out in the crowd pairing these floor-length dresses with Banarasi silk dupatta could be an ideal choice. Instead of wearing the dupatta accompanied by the dress, style these with contrasting colour silk dupatta to make sure that all eyes are on you. The only thing to keep in mind while pairing a silk Banarasi dupatta is to make sure that if your dress is heavily embroidered then opt for a plain dupatta and vice versa for a simple dress pair it with heavy silk Banaras dupatta to make them look even more appealing.
Dhoti Sarees
A smart and comfortable choice for party wear, dhoti sarees are favoured by many youths. Dhoti sarees allow you the ease to move around freely, dance and enjoy the celebration without the fear of wardrobe malfunction. These outfits add an oomph and glamour's quotient and allow you to have an exciting time with your friends and family. Pair dhoti saree with colourful Banarasi silk dupatta and add cheer to the traditional saree.
Leena Set or Skirt –Top
Wedding, Sangeeta, Mehndi are some functions that look incomplete without a lehenga set. Floral lehenga set is in trend and can be paired with banarasi silk dupattas to make it a memorable outfit. You can also opt for the plain and solid colour skirt –top and embellish them with heavily embroidered contrasting banarasi silk dupatta to get that subtle but a very classic look for any function. You can also opt for a crop top with plain skirts and add banarasi silk dupatta for that extra oomph. You can easily buy good quality banarasi silk dupatta from banarasi silk dupatta supplier Surat at budget-friendly prices.
The best part is that one can go online and follow celebrities and designers who can help you understand how you can work a particular outfit and even follow trends at the same time. Banaras silk dupattas can be draped in several ways with a variety of outfits and can make you instantly feel beautiful and royal simultaneously. Banaras silk dupatta manufacturers in Gujarat are known for their quality products and on-time delivery of consignment for their customers at affordable prices.