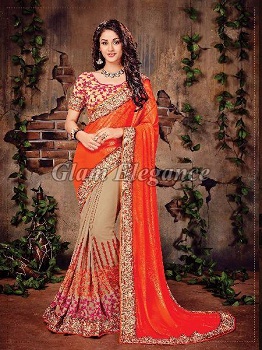 The word saree is known as a strip of cloth in Sanskrit. Sarees have been part of Indian apparel since Hindu traditions. Sarees have also been mentioned in Rig Veda as it is a beautiful and excellent garments for women. However, Sarees are a vital part of garments for comfort and beauty. There are several types of sarees available in the market, and one of them is Georgette Sarees.
It is lightweight, strong and can be easily dyed in various colours. However, Georgette fabrics are popular for printing. This fabric has been named after a renowned fashion dressmaker of the 20th Century. This fabric is composed of silk, but with time it is available in synthetic fibres. Several Georgette saree manufacturers in Gujarat are selling quality sarees at affordable prices. Here are some of the benefits of Georgette sarees.
Lightweight Fabric
This georgette fabric is made from silk and it is a very lightweight fabric. However, Georgette sarees give a beautiful and tremendous heavy look, but they are lightweight and best for wearing. However, these georgette sarees can be worn throughout the year and it is comfortable.
Tremendous and Gorgeous Look
Georgette sarees are tremendous and give gorgeous look. They are flowy fabric. Georgette sarees use thin fabric and that helps to avoid a bulky look.
Adequate Printing of Colour
This Georgette fabric is composed of silk and can absorb colour efficiently. Thus, georgette sarees are available in various colours. They can hold the colours adequately. Therefore, money can be saved on expensive printed georgette sarees, by just dying them into different colours at less cost.
Cost-Effective
These Georgette sarees are sold in the market at a higher rate printed colours, but a lot of amounts can be saved by dying non-coloured georgette sarees into colours as per the customer's choice can be cost-effective. Several Georgette Sarees Suppliers in Surat are supplying at market-effective rates.
Variety of sarees
These Georgette sarees are available in different beautiful colours and forms. Some of the varieties of georgette fabrics are used to make beautiful sarees like Double Georgette, Satin Georgette, Jacquard Georgette, and Stretch Georgette. These Georgette sarees are pleasant to wear and skin-friendly. However, georgette sarees in Surat are available at various price ranges.
So, we can conclude that clothing has been part of our tradition. Clothing has been stylish and comfortable garment that can be identified with religion. However, Sarees are an iconic garment for Indian women that make their evergreen look forever. Thus Sarees should be composed of an adequate fabric that will make the women comfortable and skin-friendly.
Thus Georgette sarees are lightweight and can be worn for any occasion. So if you are looking for affordable Georgette sarees for supplying then you must research the seller in Surat. In Gujarat, Georgette sarees are available at reasonable prices. This fabric is highly popular and most commonly found in sarees composed of such fabric. Therefore, this fabric is highly popular during wedding seasons, as they are comfortable to wear and also gives beautiful look. Thus, Georgette is made from silk and various parts of the country have different types of silk. These georgette sarees give exquisite look.