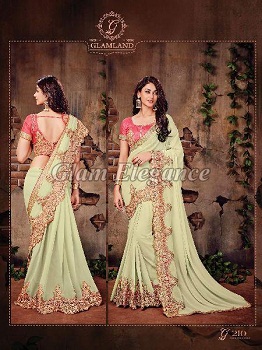 Saree is still considered to be one of the most commonly worn Indian clothing. Women of all ages prefer and like adorning themselves in sarees and one of the most commonly found fabrics for saree is georgette. Georgette sarees are extremely common and are available in all sects. They are available in various designs and colours and hence are worn by women all over the country.

Yet the creation of georgette dates back. Here is a sneak peek about what everyone must know about georgette sarees and fabric –
Creation-

According to georgette saree manufacturers in Gujarat the main inspiration behind Georgette saree is chiffon. In the year 1915, an Italian designer named Madame Georgette De La Plante invented this fabric to meet up the demand for chiffon but created something more strong and durable.

How is it like?

Georgette sarees are extremely loved mostly due to their texture. It is a sheer fabric that can be either totally transparent or completely opaque. The main inspiration behind georgette was to create a fabric that matched with the overall appeal of chiffon but was less transparent. This paved the way for Georgette to be this popularized even in conservative countries. The flowy texture of the georgette saree allows you to look good without having to put much effort.


Types of Georgette Saree

Though a various variety of georgette sarees in Surat are available, yet the most commonly found type of Georgette has to be Poly and Faux Georgette.

The main point of difference between poly Georgette and Faux Georgette is the fact that poly georgette is more expensive. It is to be believed that poly georgette can sometimes cost about 5 times more than that of faux georgette and that is because poly georgette is softer. Other types of georgette include nylon, satin, jacquard, etc.

Faux Georgette

Faux Georgette is considered to be one of the most popular fabrics that are used in the Indian ethnic industry for all the right reasons. Faux Georgette is artificial georgette. The basic difference is that pure georgette is made from silk yarns whereas nylon rayon and polyester yarns are used in the creation of faux georgette. That is how the name faux has originated. Yet being artificial it is still more popular and that is so for the following reasons –

• It is suitable for all seasons
• It is more affordable than the original georgette fabric
• It is very light and fluffy and it is also durable which makes it last longer than the original georgette
• They are lightweight and are easy to carry
• Printing and embroidery can very easily be done on this fabric

Difference between georgette and chiffon

• Georgette is dull in comparison to that chiffon
• Georgette is more durable than chiffon
• Georgette is rougher than chiffon
• It is heavier than chiffon

How to take care of Georgette Fabric

One of the best things about Georgette is that it requires extremely low maintenance and is more durable and therefore it is more preferable by Indian women all around the globe. Here are a few ways to take care of your Georgette sarees as instructed by georgette saree suppliers in Surat –

• You should always go for hand wash
• Use mild and light detergent to wash the fabric
• Do not dry the fabric in direct sunlight always opt for indirect sunlight

These are a few must-know facts about the georgette saree.