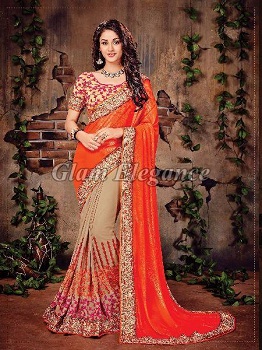 Saree is a traditional Indian dress that has a drape differing from 4.5 to 8 meter in length and 60 to 120 centimetres breadth. India is a vast country with varied culture and customs. Sarees and their styles also differ in every part of the country. Saree is regarded as the national attire of Indian women. Some popular types of Sarees are Georgette Sarees, Banarasi Saree, Bandhani Saree, Kanjeevaram Saree, Embroidery Saree, and many more.
Women have been wearing sarees from the Harappa civilization. Since time, many new types of fabric have been introduced, and every material differs in every state of India. The fabrics were invented as per the climate of the state or villages or towns. Thus, the style of wearing saree from the north to south or the east to west is different from one another. The sarees are made up of cotton, silk, chiffon, crepe, rayon, georgette, and many more.
About Georgette Sarees
Georgette sarees are made from georgette fabric, which is very light weighted, dull finished fabric. It is made from silk, and it is a highly distorted yarn. The wavy surface is made by the alternating S and Z yearn. The georgette fabric is made from solid colors. In India, Georgette Saree Manufacturer Gujarat manufactures beautiful georgette sarees. People love Georgette Sarees in Surat, as they are of varied designs and color that attracts the people. Surat is the textile hub of the country. Thus there are many Georgette Sarees Supplier in Surat who can offer one best georgette sarees of the best quality and modern styles.
Types of Georgette Sarees
Georgette Sarees are available in, many types. They are as follows:
• Silk georgette saree
• Nylon georgette saree
• Viscose georgette saree
• Satin georgette saree
• Jacquard Georgette saree
• Polyester georgette saree
Reasons for Georgette Sarees Loved By Woman
There are many features of the Georgette Saree, which makes the women fall in love with it. They are as follows:
• The georgette sarees are very comfortable to wear; the fabric is very soft.
• It is also very comfortable to wear.
• They are available in all ranges from affordable price too expensive sarees.
• Georgette sari is light weighted and easy to drape.
• It is easy to maintain and wash.
• The royal families wore the georgette sarees so they are elegant and it shows one's class.
• The georgette sarees can be kept for ages, and it does not easily damage.
• The georgette sari is very easy to handle.
Every woman is beautiful, and also their choice of garments they choose to wear. Saree has always been the most comfortable attire of a woman, it is not only fair, but it also shows the true self of a woman. A saree reflects the choices and tastes of a woman. Georgette Saree gives one a royal feeling, and at the same time, it is very comfortable to wear as it is soft. Thus georgette sarees are more preferred by the woman.